Archive
Why Should Schools Use Paid Advertising?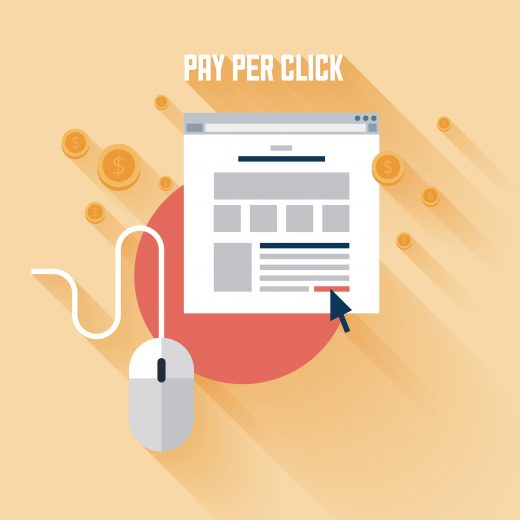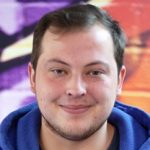 19th August 2019
PPC (Pay-Per-Click) advertising is the process of directing traffic to your school website through paid advertisements that appear on Search Engine Results Pages (SERPS) where the advertiser only pays once a user has clicked on the advert.
Paid Advertising has quickly become the marketing channel of choice for many businesses and schools because of the rewarding benefits it offers:
• Targeted traffic
Within Google Ads you can target people based on their location, age & gender. You can then choose to show certain adverts at specific times and days
• Speed to market
PPC adverts can be launched within a few hours and start delivering good quality traffic to your website right away
• Increase in brand awareness
People broadly searching for schools in your area may not be aware of who you are. Showing your advert at the top of Google will get you in front of new people
• Increase in leads & sales
or from a school perspective, placements. Exposing the school to new people will lead to more people coming to your open days and visiting the school. In turn, you'll get more placements at the school than if you didn't run PPC
• Higher control on your marketing
Using PPC, your key performance indicators like spend, conversions, return on investment can easily be controlled and monitored giving you higher understanding of whether your marketing strategies are working
Done correctly, PPC advertising can be the best method for schools to attract new students, especially when they view the process as a business transaction. When we see a placement as a sale and a student as a customer, we can start to see the true value of Paid Advertising. Based on this article from The Guardian, the average independent school fee is £17,000 per year. So even if it costs us £3,000 to generate one placement at the school, that's still a good ROI.
But how much does it really cost to generate a placement at a school?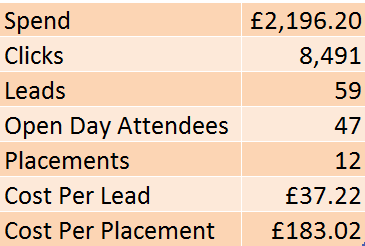 There are so many variables depending on what the school offers, like are they coeducational? Just a prep school? Do they offer boarding? Where are they? However, take a look at some of our stats to see what we can generate placements for on the right.
This was a PPC campaign that was run for an independent school in London. With a spend of a little over £2,000 that gained 12 placements at the school. Even if all 12 students just stayed for one term (which has a likelihood of almost 0%) the return on their investment still would be over 2,400%.
Paid Advertising for Education in the UK is likely to get bigger and bigger over the next 12 months as more and more schools begin to understand how crucial it is to keeping their places filled, and how such a small investment can return enormous amounts of revenue in returned school fees.
This advancement of Paid Advertising has already begun in the United States, with their biggest spending University putting away over $200,000 per day in order to attract the top students.
Paid Advertising, in particularly on Google, is definitely an investment that schools should be making. It is a great channel to bring in prospective students that otherwise wouldn't know the school and you are likely to see great returns on your investments into PPC Advertising.