Archive
Big Issue seller Simon Mott first to take online payments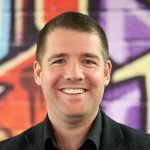 9th December 2013
Simon Mott has become the first Big Issue seller to allow his customers the ability to pay online via his smart phone.
Using a mobile payment device from Swedish company iZettle Simon can securely take money from people in the street after finding few of his customers now carry cash. The Big Issue commented how impressed they were with Simon's ingenuity and have now jumped on board to offer the technology to other vendors within weeks.
Soon the familiar saying ' Sorry, I have no change' will be a distant memory.